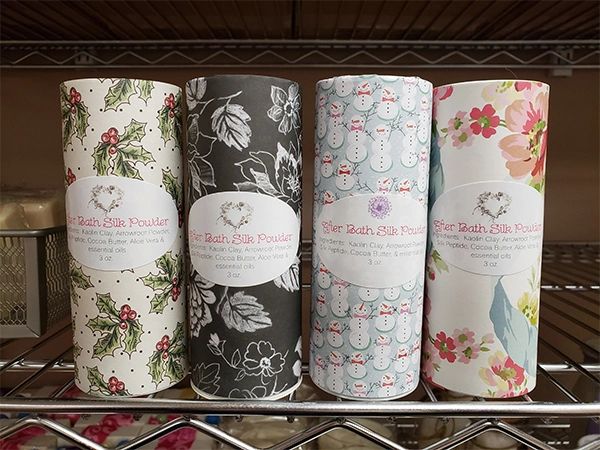 After-Bath Powder
This powder is a game-changer.
When I started using it I had no idea how great powder could be. I hadn't used powder for years because more often than not it rolled up into clumps and made a mess in my clothes. Then the news came out about talc being infiltrated with asbestos and was thought to cause cancer. Ok, no more powder for me—until now!
Our ingredients are what make the difference. Kaolin clay is a detoxifier. It is absorbent. It is a natural skin-smoother. Silk powder holds moisture. It is similar in molecular structure to collagen and naturally smooths skin. Arrowroot powder is also very absorbent. Full of B vitamins, it is also a skin soother. Cocoa butter holds moisture, nourishes skin and improves elasticity. (There isn't much of it in the powder, but the small presence is just right but makes a difference.) Aloe vera is known for soothing rashes, burns and other skin injuries.
The powder is very soft, and initially you will feel the tiny grains of cocoa butter, but it melts almost instantly and you just feel silky smooth powder and it feels so good. I have totally given up using deodorant and just use this powder. It keeps me completely dry, comfortable and odor-free with no nasty chemicals. Our new puffs are the perfect gentle applicator. It comes in a 3 oz. decorative canister.
Reviews